The New Measure in the 450 kV Class
ZEISS CT Technology for Battery Modules

Small footprint, big performance
ZEISS VoluMax 9 titan
Delivering 450 kV performance while maintaining a remarkably small footprint, the ZEISS VoluMax 9 titan is one of the most compact and robust systems of its kind on the market. Not only can its spacious interior accommodate parts measuring up to 590 x 700 mm and weighing as much as 60 kg, its 3k detector and 1,500 W power range offer outstanding penetration strength – all of which is vital for handling the large and dense components that characterize the battery module segment.
The operator console is integrated into the cabinet to save additional space, ensure greater ease of use, and provide a health and safety boost for personnel in at-line and quality lab environments alike. On top of this, the ZEISS VoluMax 9 titan is backed up by a comprehensive and fast service package for a swift return on investment and minimal downtime.
Compact design delivers power and quality
Your advantages at a glance
Given that high-quality batteries are essential for growing the reach of BEVs (battery electric vehicles), the battery sector is underpinned by a considerable array of efficiency and quality requirements. The ZEISS VoluMax 9 titan offers a reliable means of performing consistent defect inspections on very dense parts such as battery modules – with a blend of cost-effective performance and compact design - with one of the best blends of cost-effective performance and compact design on the market.


Small machine footprint, operator console integrated into cabinet, and improved mover system all contribute to outstanding flexibility. This compact yet roomy system can handle parts measuring up to 590 x 700 mm, ensuring smart use of the available space.

Even in highly challenging operating environments, this robust performer combines a long service life with minimal downtime. The generator and mover are both developed and produced in-house by ZEISS, underlining the commitment to top-quality components and improving productivity across the board.


Outstanding ZEISS service
ZEISS offers a whole host of excellent hardware and software services, keeping the maintenance requirement low while also providing swift support whenever needed. Teams of native-speaking service technicians and trainers are ready for deployment in 25 countries.


Fast return on investment
The robust system concept, high quality standards, and compatibility with fast cycle times help supercharge productivity, enabling a swift ROI for users of the ZEISS VoluMax 9 titan.

Wide electronic sliding doors allow for easy handling of large parts, while automatic axis positioning promotes convenient loading and unloading. This ergonomic operation boosts comfort and ease of use.


Designed according to the high safety standards and component quality inherently associated with the ZEISS brand, this machine supports a safe and straightforward user experience.

ZEISS VoluMax 9 titan – product highlights
Your at-line/quality lab powerhouse
Though the ZEISS VoluMax 9 titan is characterized first and foremost by its remarkably compact design, this robust solution is packed with additional features to ensure high-level performance. Click the blue dots in the image below for further insight into seven of the most notable product highlights.

Look closer –
Dense parts in stunning detail
The ZEISS VoluMax 9 titan features a new 3k detector for generating 3D volume data sets with higher resolution: More voxels means better detection of smaller defects.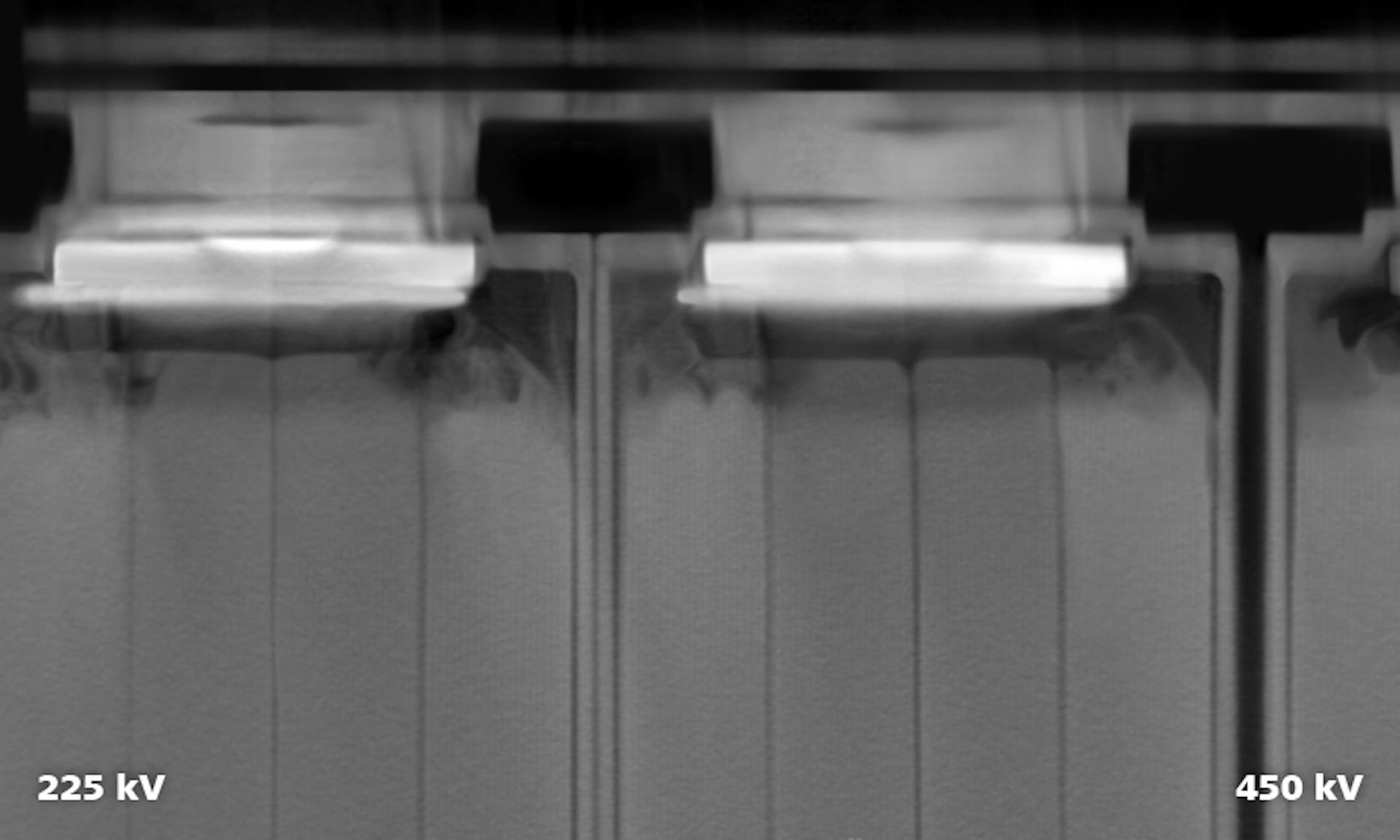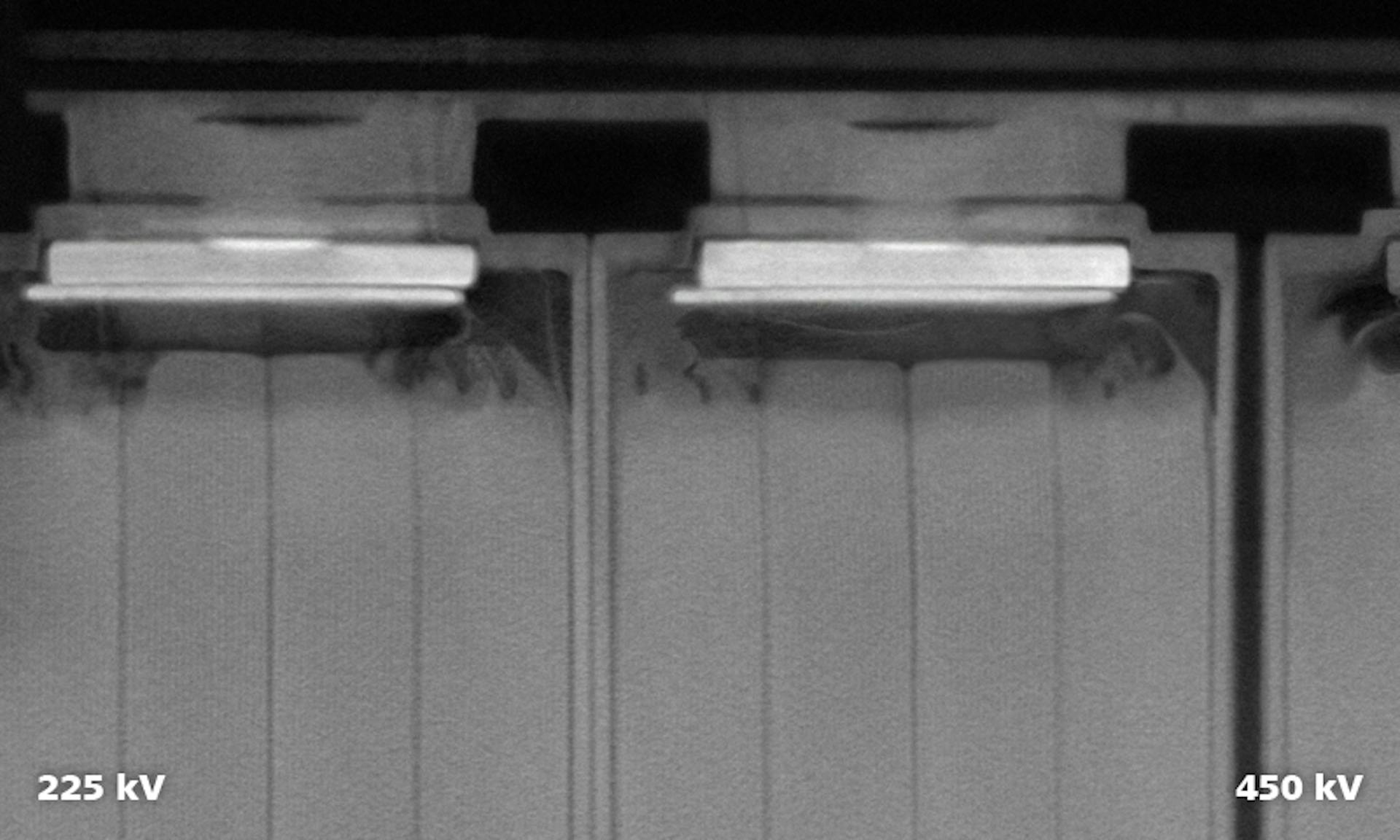 Image comparison of a battery module scanned using 225 kV and 450 kV technology. The smaller voxel size enables the 3k detector to generate higher resolution scans for sharper rendering, even with small parts.

The 3k detector pinpoints issues including electrode defects, stack alignment flaws, and excess overhang – all as part of a non-destructive process.
1. Overhang
2. Tab and Welding
3. Housing pores
4. Gap measurement
5. Electrode defect


Metallic contamination detection
Contamination with metal particles is a key safety concern and must be avoided in the final product. Detailed and reliable inspection of the metal particles in the cell ensures the necessary quality.

Tight seams and flawless welding are vital to battery performance and safety, even more so with the increasing use of thinner foils. The welding quality must be verified through high-resolution scans in which the module remains intact.
Technical data
The most compact 450 kV system
| | |
| --- | --- |
| Dimensions (W x H x D) | 2,750 mm x 2,350 mm x 1,750 mm |
| System weight | 13,500 kg |
| Tube voltage and current | 450 kV, 3,3 mA |
| Pixel pitch | 139 μm |
| Flat panel detector | 3,072 x 3,072 px |
| Max. workpiece size | Ø 600 x 700 mm |
| Max. part weight | 60 kg |
Fields of application:
Battery modules
Inspection features:
Non-destructive inspection and quality assurance of dense materials
#measuringhero Vlog
Let's talk: NEV!
Looking for added value when scanning dense materials?
Fill out the form below to download our whitepaper.
Download more information